There were no customers today.[29th June]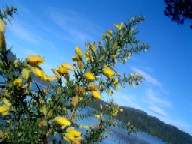 Hello, everyone. How's it going? I'm fine, thank you. It was lovely weather again today. I finished working at about 11. There were actually no customers today.
I went running for nearly an hour and afterwards had a shower, had a hot spa, washed my clothes, studied English a little, and translated the diary of Mr Mizuguchi. That's all.
When I went running, I lay on the road and saw the quite high blue sky. Then, I realized the clouds rising up. I'd thought clouds had usually moved to front, back, left and right. Then, I was impressed a bit.
Several days ago, I god an e-mail from Peter W who has been a English teacher of me about 7 months ago. He told me that it sounded like an idyllic place here, Hopewell. I checked a dictionary for "idyllic". Then, I really thought that was the very thing. Around here is surely an idyllic place.
However, I've felt bored lately because only a few people have visited here. I heard that a new worker was coming here on 15th June but she cut connection. Another worker was also coming here yesterday but he didn't. When can we have a new worker? I wonder if I would work alone by the time I leave here.
Then, see you tomorrow. By the way, 18 people visited this site yesterday. Thank you.