Welcome T-hikl.[26th June]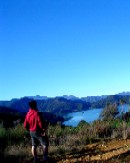 Hello, everyone. How's it going? I'm as well as ever. It was rainy all day today here, in Hopewell. How about your city?
Today, I worked until 3 pm. This morning, many customers left here, and so it was busy, and what was worse, it was rainy. However, cause of the rain, I couldn't go out even if it had been not so busy, and so that's all right.
That's why I don't have some special things to tell you today. Then, I will tell you about a boy. Although I think somebody has already known it, the boy has commented here in Japanese. Then, I answered,
"I don't understand Japanese. If you wanna talk to me, translate please", though I am Japanese.
I wouldn't like to use Japanese here because I've selfishly decided that this site is English speaking area. I decided to be Kiwi here. By the way, when Tomoko visited our BBH, she said to me,
"You are like Kiwi!"
Because I wore a T-shirt and a short pants though she and Sumie wore warm jackets.
Oh, sorry. It was about the boy. His name is T-hikl. He is a Japanese high student. I'm glad that he commented in English for us. Welcome T-hikl. I answer your questions.
I've got lots of treasures in New Zealand. One of the biggest things is beautiful friendship. Actually, I've got to know a lot of friends who've been from many kinds of country. Also, I've done many things which I hadn't done so much in Japan for example, walking, running, kayaking, reading books, cooking, knitting, drawing, talking to ladies, going to a pub, travelling by bicycle, some working, keeping a journal, studying English, and so on. I can't tell you what I've got from each experience because they are too much.
Hey, T-hikl. You are young. You have to go out from Japan and live there once. Then, you'll be able to know what I'm seeing now. Lately, I wonder if Japan is a foreign country to me. This feeling is quite interesting, very funny, and comfortable. I think some Japanese dislikes me but I like myself now. I've been enjoying my life very much. My life is my enjoyment. It's like a game.
Have you been heartily enjoying your life? I like the people who heartily enjoy their lives. It's my favourite phrase.
Yesterday is history.
Tomorrow is mystery.
Today is a gift.
That's why it's called a present.
Then, see you tomorrow. By the way, 26 people visited this site yesterday. Thank you very much. By the way (again), I used a photo which I took not today, again, because I don't like a rainy day's picture.