We went kayaking.[22nd June]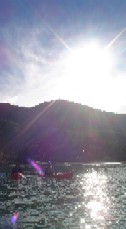 Hi, everyone. How's it going? This morning, I got up at 10:30. I overslept though my work was off today. Actually, I talked to Tomoko and Sumie until 3:30 last night. However, they got up at 8 this morning.
It was very fine today. In fact, it hadn't come here the real sunny. Thanks God! After breakfast, we went kayaking. When we were doing kayaking, we were on the deep blue sea, under the clear sky, and bathed in dazzling sunshine. Although it was the first time for Sumie to go kayaking, the wave was quite calm, and so all we really enjoyed kayaking. But actually, I also liked the wave of the day before yesterday. I suppose we were on the sea for about an hour and a half.
After finished kayaking, we cooked spaghetti carbonara. I've loved it for a long so I learned how to cook it when I had been living in Timaru. It was very tasty though the cause might be kayaking.
After lunch, Tomoko and I went mountain biking. On the other hand, Sumie did trampoline in the garden. When we went biking, King (dog) followed us. However, we did it for almost an hour, so he looked exhausted. Although he would give up many times, Tomoko called him every time he looked going back home. It was the first time for me to see him tired.
Afterwards, Sumie and Tomoko went walking along the bay and I had a shower. In the evening, we cooked baked chicken and potato with carbonara souse (remain of lunch) , and fried vegetable. And after dinner, we had rare cheese cakes with kiwi souse which we made last night. When I was living in Timaru, my boss's friend taught me how to make the rare cheese cake. I learnt many recipes in Timaru. Although it had been the first time for me to make it last night, it was very delicious. I was impressed! Then, I was really thankful to Ms. Miho who taught how to make it. Thank you very much.
Then, we were listening to Japanese music in the common room. There were two Kiwi women there and they were reading fashion magazines. We felt, the scenery was very strange and funny because they looked like relaxing by Japanese songs. We felt that we wanted to know how they were feeling then. Although we were laughing, they wouldn't noticed what made us funny because we were talking in Japanese. Then, Tomoko said,
"If they can understand Japanese, we are very impolite."
When we were talking, we often speak in imitation of Momoko. Her speaking is very special though I can't explain it unfortunately.
Today, we have really had a wonderful day. I think it's especially thanks to the good weather. I'm really thankful to God for giving us dazzling sunshine today.