Tomoko and Sumie arrived at our BBH.[21st June]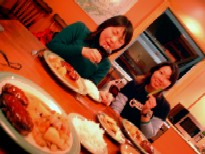 Hello, everyone. How are you doing? This evening, Tomoko and Sumie arrived here, Hopewell. I'm very glad that they came here. Today, they came from Nelson. Two weeks ago, Noriko came here and afterwards, she went to Nelson to see Tomoko. Tomoko said,
"Noriko told me Hopewell is very beautiful place!"
And so Tomoko came here today. Thank you very much, Noriko.
It was very good weather when I woke up. However, it became rainy, again. When I was preparing for dinner, they arrived. Then, it was cloudy. It was changeable weather.
Anyway, I cooked for dinner Hamburg steaks, "Niku-Jaga" (boiled meat & potato). Then, although they were impressed by my cooking, I was actually impressed by the Hamburg steaks. It was the best Hamburg steak in my cooking history. Anyway, we really enjoyed the dinner time. Then, Sumie drank wine very much. She heartily loves wine.
Afterwards, we went walking to watch stars. Sumie had got drunk, so she couldn't walk straightly. For that reasons, she stepped in puddles and she spoke mysterious language. It amused Tomoko, me, and also herself. On the other hand, we were impressed by much of the star. We could see the Milky Way quite clearly. It'd begun from above the mountain. It seemed like a volcano, very beautiful volcano. It was breathing out the star powder. Suddenly, shower started though we could see much of star as ever. We didn't know where the rain fell from.
After we came back home, Tomoko had a shower. Then Sumie and I continued watching stars. We saw some shooting stars though the rain had kept going as ever.