It was rainy all day.[14th June]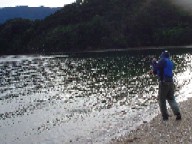 Hello, everybody. What's the weather like in your city? It was rainy all day here in Hopewell. If the weather was good, I would go biking but unfortunately it wasn't.
By the way, this morning, I cleaned rooms very tidy. Then, Lynley gave me a muffin after finished working. It was very tasty. It was not sweet. I think it is English muffin. I'd like to make it sometime.
In the afternoon, I studied English in my room. Actually, I haven't studied English except for this journal. Recently, I've really faced that I haven't had enough vocabulary yet. That was why I studied vocabulary today. Then, I knew a good phrase. That is,
"It's now or never"
It's a nice phrase, isn't it? I pasted the phrase on the wall in my room.
In the evening, I had tomato souse spaghetti. Then, the Israeli man was watching a video. He'd been watching a video when I had lunch, too. I asked him,
"How many videos have you watched today?"
"Four", he answered after a moment.
Then, I heard another woman laughed.
It was nothing special today because of rain, I think. Tomorrow afternoon, I'm going to the town with Lynley to get food. It was the first time for me to go to the town after I came here. Maybe it'll happen something special tomorrow, I hope. Then, see you tomorrow.
By the way, 12 people visited this site yesterday. Thank you very much.