I've done kayaking for 3 hours.[13th June]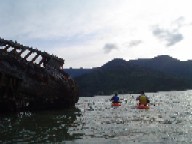 Hello, everyone. How's it going? I'm very tired now. Actually, I went kayaking for 3 hours today.
This morning, I wasn't a hard worker. I cleaned quite simply. That was why I finished my work at 11:30 but my boss noticed it. This afternoon, Lynley said,
"You've left some your work but I'll show you it tomorrow. Have a nice day"
I'm sorry. I guess I should work quite hard tomorrow. For that purpose, I have to go to bed early because I'm quite tired now though I was a lazy worker today.
Well, the cause is kayaking. This afternoon, I went Kayaking with 2 men. They've stayed here in Hopewell. One of them is Israeli. In fact, it was the first time for me to talk to Israeli in my life. He just arrived here today and it was the first time for him to go kayaking. But it's no problem. It is not so difficult. It just makes us tired. Another man has been here nearly a week but I haven't remembered his name yet though he said to me every morning,
"Good morning Kazu!!", in a loud voice.
I don't know even where he is from. I'm so sorry. Here this journal, I'll call him "Mr. Ducks and Drakes".
Anyway, we enjoyed kayaking. Mr. DD proposed to go to see a sunken vessel and we followed him. He is good at kayaking at least quite better than me so I was late anytime. The waves ran high so it was quite hard work and I got wet to the skin. The ship was near the beach. It looked great by shining of the sunset. Then, Mr. DD was going around the nice coast but the Israeli man had been already tired and was going back home. Although I'd been also tired, I decided to go with Mr. DD because I'm curious.
The coast was very nice. We went along there slowly to enjoy beautiful nature. Afterwards, we arrived at the white beach and got off there. I looked toward Hopewell. Our house was like rice. I mean it was quite far from there. We took a break there and played ducks and drakes. Mr. DD was actually very good at ducks and drakes. Do you know the game? You throw a stone toward the sea or river and make the stone step on the water. That's all. He said,
"It's just whether you can find a good stone or not"
Although I don't know exactly, we were there for about 20 to 30 minutes, I think. After that, we went back home but the wave ran a bit high. I was absolutely exhausted. As soon as I got home, I took the hot spa in the garden for the first time. It' was very nice. I saw the beautiful scenery while taking it.
Well, I'm tired still now and I should work hard tomorrow. I'm going to bed now. Then, see you tomorrow.