It was back a normal day.[12th June]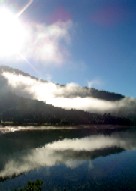 This morning, I got up at 7:30 and went to running. It was back a normal day. Although it was cloudy, it cleared by the time I finished working.
I washed my clothes and I went walking. However, it was running to be exact. Actually, I followed King to run. We ran for about 30 minutes. When I arrived at my room, Richard, who assists Mike to renovate some rooms, was going kayaking and asked me if I join him. I thought for a while and finally I didn't go. It was already 2:30pm but actually I hadn't had lunch. Then, he went alone and I had late lunch.
Afterwards, I began to write journals for 4 days. And I'm writing it now.
Then, see you tomorrow with certain. I'm so sorry for making some of you worried and thank you. I'll keep this journal as I can for my English skills, also keeping touch with my friends, and for fear that some of them will be worried about me.