Noriko left to Nelson.[11th June]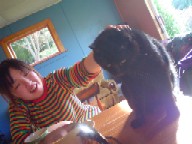 This morning, I got new bread from Mike. Actually, they bake bread and I can get it free anytime. Noriko and I had it for breakfast. It was very tasty. She had the piece of toast without jam and butter.
After that, I began to work and she was walking in the garden until the departure time of water taxi. She left at 11:30am. Then, Lynley gave me a break time and I saw her off. I waved to her in the boat. By the way, she was going to Nelson to see Tomoko. Tomoko told me she felt bored in Nelson. Actually, I've never been to Nelson so I don't know what the town is like? I wish they'll have a good time together then. Anyway, thank you very much for coming to Hopewell, Noriko. I've had really good time thanks to you.
This afternoon, I went running up to mountain road. Then, I couldn't find King so I went alone. It was sunny though it was cloudy with some rain in the morning. I went running for about 40 minutes. Afterwards, I had late lunch and had a shower. Although I was going to write a journal, a customer used a computer. Actually, there is only a computer can be used internet at our place. Then, I felt sleepy and went to bed though it was 5 pm, yet. When I woke up, it was 10 pm. Then, I began to watch the movie, "Spirited Away" on my computer. Before I knew it, I was in the dreaming world.