We went biking this afternoon.[10th June (2)]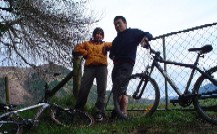 Continuation...
After that, we went mountain biking. At first, King (a dog) followed us but he stopped it before we knew it. Although I went after Noriko at first, she told me she preferred after me. However, after a few minutes, she went out of sight and I waited for a moment. Whenever she saw me, she said,
"I am alive!!"
The road is usually muddy. It painted my legs artistic and also made Noriko fell down. I don't know exactly but we went biking for about 2 to 3 hours. I had been used to biking you know, but she hadn't. That's why she looked exhausted after finished it. Although we took breaks in the common room, she felt sleepy and went to bed. In fact, we were too active today.
Then, we began to prepare for dinner. I cooked "Oyako-don" and "Teriyaki-chicken" which are Japanese traditional dishes. I learnt "Teriyaki-chicken" from my boss in Timaru and "Oyako-don" was cooked by my memories of my mother's cooking plus my originality. By the way, I used chicken for the curry, too. Actually, I'd got a big chicken so I had to use it as early as possible. When I was cooking, Noriko woke and came into the kitchen. She looked tired still then so I encouraged her to read a book and just to rest. She read my recommended book, "Tetsugaku" written by Shinsuke Shimada and Hitoshi Matsumoto. I felt she liked it. Well, the dinner was very good. One of the big reasons was that we had done many activities today, I thought.
Anyway, I really enjoyed my first off day and tired more than working days.