We were quite active today.[10th June (1)]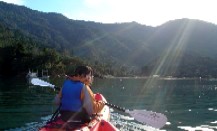 Today, I've got a off day for the first time after came here. This morning, Noriko and I had the remains of curry and some pieces of toast which she brought. When it was toasted, she said,
"It tastes no good!"
But actually it was not bad. I thought and said to her. Then, she said,
"Maybe the cause of the good toaster, it became good!"
After breakfast, we went kayaking. It was very fine day. There were the dazzling sun, the vast blue sky and the clear blue sea. It was actually the first time for me to try kayaking though I've been able to do it free here. She'd been kayaking some times so she looked good at it at least more than me. That was why I was usually after her. I didn't know why but my kayak often went leftwards and my kayak sometimes hit Noriko's. There was quite silent. I just heard the sound of water and some birds' voice. We did it for about an hour. It was very good exercise for us and it made us tired and hungry. Then, we had lunch.
I cooked dry curry using the remains of last dinner. Then, a cat (I don't know his name) came there and was going to get some food but he looked not to really want to eat. He (I'm not sure if she is) sometimes comes to my room but usually doesn't do anything. I think he is not curious and also lazy. Actually, he is a little bit fat. After lunch, we played a trampoline in the garden. We were surprised it was very hard exercise. Then, we felt like carsick for a few minutes.
To be continued...