I took a walk with a dog.[6th June]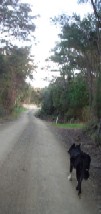 Hello, everyone. How's it going? I'm as well as ever. It was a very fine day again today. How was your place?
Today, I finished my work at 12:30 and I began to cook my lunch in the common room. Then, a woman came into there and said,
"You've done very good job!"
"Thank you!", I said.
I worked really hard to clean that room. However, then, I wondered if she had been waiting for me to finish cleaning because she would have lunch. Anyhow, I was glad to hear her words.
In the afternoon, I would go walking alone. When I was leaving our place, a dog began to follow me. He was following me but I began to follow him before I knew it! His name is King. He passed through by me and ran in front of me. I had to follow him though I didn't know exactly. He is very funny. I couldn't understand his action. Anyway, it was good exercise for me.
By the way, Sandy told me she was in Wellinghton and was going to Nelson tomorrow. However, unfortunately, she doesn't have enough time to visit my place. In fact, my house is too faraway from a town. I'm living in deep nature...
Then, see you tomorrow.