I met a German guy.[3rd June]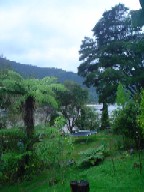 Hi, everyone. How are you doing? I'm fine. Today, my new work has been started.
My first work was cleaning 3 bed rooms. I worked hard. Here is actually quiet place. My boss told me that lots of people come here in summer but now, not so busy usually.
In fact, it was just one visitor today. He is German guy. After dinner, when I was reading a book in the common room, he talked to me. He spoke English fluently but I'm not so well, you know. That's why although it was difficult to talk to him, I enjoyed talking. I hope he also enjoyed it. We talked about mainly normal things and sometimes serious things.
Do you know Catan which is a quite famous table game in Germany. I told him I really loved that game. Then, he said,
"If you like Catan, you may like another game, too"
I don't remember the name but he told me he was going to sent an e-mail to me.
Well, although it was cloudy today, I could see the full moon. Although there is too dark our place in the night, I could walk safe around there then.
Then, see you tomorrow.