I visited Nancy's house.[1st June(1)]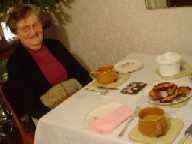 Hello, everybody. How are you and where are you doing? I'm very fine and in Picton now. I'm staying the backpackers and using their computer. Tonight, my room has 6 beds but there is actually just me. It's very nice. I've got a big single room.
well, first, I'll tell you about yesterday afternoon. After finished to write the journal, I met Jean, Peter.W, and Eillien. They were my teacher when I went to the school. Especially, Peter taught me for a long time. I talked to him about my life in Timaru and what I'm going to do from now. Actually, Timaru is his hometown. I told him that I've really enjoyed the time in Timaru and I liked it. He told me he was going to Japan in this or next year. Anyway, I told him I'll be back to Chch with certain.
And also I met Akiko and talked to her. She looked a little bit tired but it's just my feeling. She told me she had no plan after finishing her course. Then, she was going back to Japan, probably, she told. That's why we said, "It is the last time to meet together. See you in Saitama"
I met and talked to Ayako, too. I'd sent an e-mail to her but I couldn't. Actually I'd got the wrong her e-mail address. I copied it from the e-mail from Patricia. Yes, she'd also got the wrong one. I'll tell her about it. By the way, today is Patricia's birthday, I suppose. Congraturations! Anyway, about Ayako. She would stay in Chch more over 4 months. Maybe when I come back there, she'll be there still then.
Afterwards, I went to Scoopio which is my favorite book shop in Chch. I'd been looking for the books written by Richard Bach but it was difficult to find. However, I could find it easily in Scoopio. I've got two books, ''ILLUSIONS" and "ONE". Both of them are written by Richard Bach. I'd read "ILLUSIONS" in Japanese. Naoko told me she liked "ONE" when I talked to her on the day before.
After that, I went to Nancy's house again and she was there. She welcomed me and we talked a lot. Then, she cooked for dinner for me. She cooks really well. Well, I asked about her life. Yeah, she is a quite busy woman. She joined many clubs and she is a president there. She does gardening at 3 houses. She also goes to do house work. Her schedule is everyday almost full. Although she is busy everyday, she enjoys cooking, knitting and many hobbies. I can't guess about her real age. By the way, Keiko, who'd been her homestay daughter would visit there today(1st June), she told me. Anyway, I had a very good time with her.
.....to be coutinued.