A rainy day.[28th May]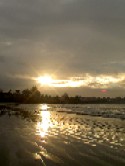 Hello, everyone. How's it going? I'm as well as ever. It was rainy in Timaru.
Today, I went to the bank to put money. About two months ago, I opened the bank account but actually, I hadn't at all put money in the bank since then. Maybe I'll be not using money after move to Marlborough. You know, my new home isn't in a town. There isn't even a village, I guess. I heard there has no shops. Maybe it's called a hamlet.
Anyway, that's why I put money in the bank all most of my money. I left money in my wallet only an amount for the journey to Marlborough.
Afterwards, I went walking on the beach though it was rainy. There were no people on the beach, of course. I was walking while I saw some birds. Suddenly, the dark cloud moved and the sun came into sight. the sun changed the beach to be beautiful.
By the way, thanks Satomi for telling about here to Korean Tina. Today, 7people came here. Yesterday was 8 people and the day before yesterday was 9people... I guess tomorrow will be 6people. Anyway, thank all you for always coming. Then, see you tomorrow.