I'm going to Chch on Sunday.[26th May]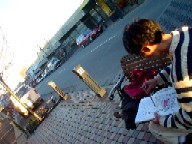 Hello, everyone. How are you doing? I'm pretty good. Actually, I got up at 3pm today. It surprised my boss.
This afternoon(it's morning for me), my friend, Ryota came to my house to return my book. It's written by Makoto Nagasawa who is Japanese artist. Ryota and I like his picture so we used to talk about his art and how to draw. He goes to politec in Timaru to learn art.
Today, he has a schedule and I had to book the bus. Then, we said"Good bye" and I went to the information centre to book the bus to Christchurch and also to Picton. After that, on the way to go home, I happened to meet Ryota, again. He was drawing a picture in the town. We talked again while he kept drawing. He draws really well. He often sells his pictures. Whenever I see someome's picture, I feel to wanna draw a picture. How about you?
By the way, I'm going to Christchurch on 30th May. And I'm catching the bus to go to Picton in the early morning on 1st June. Then, see you later.