I came back to Timaru.[24th May]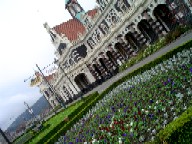 It's Monday so Mr.Eiichi went to work in the early morning. I went to the city centre and booked the bus to go back to Timaru. Yes, I chose a bus. If I had enough time, I would keep going the bicycle trip. However, in fact, I don't have much time. I have to go back home soon for helping my boss and I have to prepare for moving to Marlborough.
It was rainy. I waited for the bus in front of the rail station. I got on the bus at 2:30pm. In the bus, I was looking at the outside. Then, I was remembering about my hard funny interesting mysterious wonderful trip. I'm really thankful to my boss.
Actually, my boss(Madam) used to go a bicycle trip. She used to go around Japan, Alaska, and somewhere. She lent me the many stuff. I was really happy but also she was really happy. When I got home, I talked to her about my trip. Then, she said with her smiling,"I'm glad to find somebody who can understand how much it is fun and wonderful the bicycle trip!" Our talking was neverend.