I visited University of Otago.[23rd May]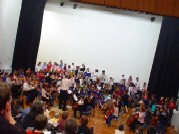 It was cloudy. I got up at 10am. I went to the city centre by bicycle.
I went to University of Otago and went into the library. It was very big. I liked it. There were many students there though it was Sunday. When I was seeing around the University, I saw that a concert would happen. I'm curious so I went into the holl.
It was Community Orchestra. Many kind of people were there. Many children or many quite old people. They were called,"Training Orchestra", "Symphonic Band", "Junior Symphonia". Some of them actually played not so well but all of them looked very happy. They were really enjoying playing. Then, I read a book. Perhaps, somebody thought that I was bored but I used their music for BGM. That was really good BGM for my reading. I had a very nice time.
When it was getting dark, I went up hills by bicycle and saw down the wonderful night view of Dunedin city. It was the last night for my trip.