Thank you, Mr.Eiichi.[22nd May]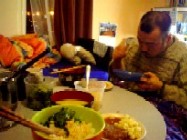 It was cloudy. I got up at 10am and Mr.Eiichi, too. We had a drive around the city. Although he lives in Dunedin, he doesn't really know about the city because he has worked hard since he came to Dunedin. He tells me at weekends, he usually stays at home all day.
That's why the driving was good for also him. We visited some places but I don't remember the names. Anyway, I enjoyed. Ah, we went to see the sea. It was nice but it was quite cold and windy.
When we were having a drive, we talked many things. His talking is quite interesting. Actually, he has ever worked in Tonga. Yes, he would introduce his boss in Tonga to me. However, unfortunately, a new worker had been already there. But for that reason, I can go to Marlborough Sounds to work. I always enjoy my mysterious fortune.
In the evening, he cooked for dinner, again. It was also delicious. I'm really thankful to him. Afterwards, we watched films on TV. Those were"Stewart Little" and "Vertical Limit". Both of them were nice movies though I could understand just a little. Recently, I hadn't heared English talking even on TV so my Engllish listening skills are getting worse. However, my new bosses are Kiwi couple. I will talk to them everyday for my English study.
By the way, my brother became 20 years old today. Congratulations.