Timaru-Glenavy, Witaki River [19th May]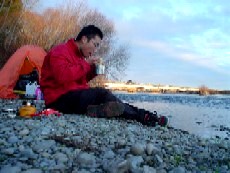 Hi, everybody. I'm writing this journal on 25th but it's a journal of the 19th. I'll write about my bicycle trip here.
I would leave my house at 8am but when I got up, a clock showed me it was 10:30. But it's no problem. Enough sleeping is very important. Anyway, I rode on the bicycle at noon and started.
It was a very fine day. I kept going under the dazzling sun and blue sky but the wind was a little bit cool. Yesterday(18th), a woman who lives in Waimate, told me she welcomes me if I want. When I went through near Waimate, it was 2:30. Then, I decided to keep going. When the time became around 3pm, I was tired and I thought I should find the place to stay tonight. I was tired but I had to keep going because there were huge farms around me. You know, there were too smelly. I can't sleep such place.
When I went through Glenaby, I found the good place to stay. It's Waitaki River side. The river is big and clean. How lucky I am! It was getting dark so I took a tent quickly and cooked for dinner. I cooked chinese noodles. I could use water from the river. I also ate nuts with suger and muffins. My boss made those for me. Those were very delicious. Also the noodles was good. I really realised that my body became happy to eat food. I felt my body said"Thanks" whenever food got into my body. At 6pm, it was almost night. I saw the sunset. Then, the river was very beautiful. As soon as I got into the tent, I slept.
However, I woke up at 9pm. I watched out side. Then, I could see a lot of stars in the large sky. It was quite cold so I thrust my head out of the tent and my body was in the tent. I was hearing the sound of river. Afterwards, I read a book while hearing the river sounds. I didn't know why but I couldn't sleep till late at night. The night was very long. I was just hearing the sound of the river and the wind...