I played tennis with a wall. [17th May]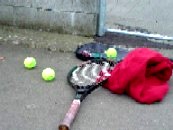 Hi, everyone. Have you enjoyed your life today? Today, I got up at noon. Recently, I've slept for 10 hours everyday. How about you?
Today, I went to the park which near the beach and played tennis with a wall. Yes, I played alone for about an hour. Why was I alone? Actually, I don't have a friend to play tennis in Timaru, you know. But the wall is my good friend. Anyhow, it was a good exercise for me. In fact, it has been bad weather recently so I hadn't gone out almost of everyday. However, it was so cold today in Timaru.
By the way, I've made the trip plan a little. I'm going to Oamaru on Wednesday and stay there. Afterwards, I'm going to Dunedin in 2days so I'm getting Dunedin on Friday, I hope. I'm going to stay in Dunedin until Monday morning. If I didn't have energy, I would take a bus. If I had ultra energy or I was crazy, I would go to Omarama, Lake Pukaki, Lake Tekapo, and come back to Timaru. For now, nobody knows what am I doing when I leave Dunedin. Guess what'll happen then.
Then, see you tomorrow. Probably, after tomorrow, I won't keep a journal here for several days but no worries. I'll be back certainly.