I'm going to Dunedin by bicycle. [16th May]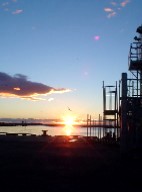 Hello, everyone. How's it going?
Today, I worked all day but it's normal to me. I work all day every weekends because my work is usually assisting my boss(Sir) to renovate their house. My boss goes to his regular work Monday to Friday.
By the way, my new work is starting on 1st June, maybe. Well, next(this?) week, I'm going to Dunedin by bicycle, maybe. Although a lot of my friends have already known it, I went to Christchurch by bicycle in April. It took for 11 hours! When I reached to Christchurch, I was nearly dying. I had to go there in 2 days. So now, I'm going to Dunedin in 3 days, maybe. It is about 210km to Dunedin from Timaru. First, I have to make a plan to reach there.
A man who lives in Dunedin welcome me so if I arrive in Dunedin, I can stay his flat but on the way, nobody knows where I will stay.
The 100mile journey was quite boring because the scenery was nothing special, you know. I mean on the way to Chch from Timaru. In the opposite direction, I look forward to seeing the scenery to Dunedin because my boss told me that's very beautiful. However, I guess Dunedin is quite cold now. I'll take care about myself and you too. Especially Nori. Good luck in Edendale!! Don't be frozen!
Then, see you tomorrow.