Do you know Marlborough Sounds? [15th May]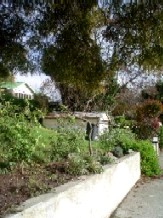 Hello, everybody. How's it going? I'm fine, thank you. Today, I did gardening like last weekend. I enjoyed it.
Yesterday, I told you I'd got a new job. The work place is actually not in Christchurch. It's in Marlborough Sounds. Do you know where is it? It's north east of South Island also near Picton. My work is nothing special. It's bed making and clearning at the Backpackers. However, I can do some activities free of charge. Anyway, when I start the life there, I'll tell you how the life is.
Well, last Wednesday, when I came back from Christchurch, I was reading the book, "ILLUSIONS" written by Richard Bach. Have you ever read it? I really like it. I recommend your reading the book. Actually, my boss(Madam) recommended my reading it. Before that, I told her I love the book,"THE ALCHEMIST" written by Paulo Coelho. Then, she told me you must like"ILLUSIONS".
If you get a free time and you like, please read the book. Then, see you tomorrow.