I'm having the interview in an hours. [12th May]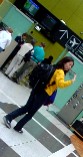 Hello, every one. I'm in Christchurch now. It is 3:30pm now. I'm having the interview at 4pm. I'm looking forward it.
This morning, I catch the bus at 7. It was dark still then and it was rainy. Also, it's raining in Christchurch now. I reached at Momoko's house at 9:30 but nobody awoke then. I knocked Tomoko's room which is next to the garage. Then, she opened the door. She looked still dreaming. Before I knew it, Monica who is their flat owner, has woken and was opening the window. The house was waking then. The time I met Momoko was a quarter past ten.
After that, Monica drove us to the airport and we saw Momoko off. Monica and Momoko were crying.
After coming back to the city centre, I visited the school which I'd been before. I met Sandy and she said,"You can stay our flat tonight" Then, I decided to stay there. Thank you so much, Sandy.
I'm having the interview in 30 minutes. I think it's time to go now. See you later.