I've got a new shirt for the interview. [11th May]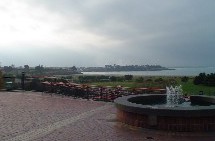 Hi everybody. How are you doing? I'm as well as ever except a little bit sleepy.
Today, my boss(Madam) and I planted 16 trees in our garden. My boss had other plan in the day time so we worked in the evening. It was almost night. I thought we looked a little bit strange. Finally, the garden has been beautiful. No, it became normal, to be exact. Anyhow, we can't clear see the garden today because of the dark. I'm looking forward to seeing it tomorrow morning.
Well, I have to go to bed now because I'm catching the bus at 7 tomorrow morning. Ah, before that, I have to pack my things up. Just now, my boss gave me a sleeping bag. I've not decited where to stay tomorrow night, yet. I'm looking for somebody has me stay their room. If I can't find them, I'll look for a hotel. If I couldn't stay a hotel, I would stay in the park, perhaps.
Today, I bought a shirt at Warehouse for the interview. It was $22.99. I'd brought a suit from Japan but I think a suit is too formal. My new shirt is actually child size but it really fits me. My boss said to me,"What are you going to wear for the tomorrow interview?" I showed my clothes. Then, "Umm... It's not so good! Is it $22? Too expencive! I have another one" When she came back there, she had many clothes. And I said to her,"Well..., thanks a lot but..., no thank you" After that, she gave me some snacks and some food. Finally, she said to me,"Please get a radish for me at the vegetable shop in Christchurch. There is a cheaper radish there" She is like my mother, isn't she?
Before I knew it, it's 12am now in NZ. I must go to bed now. See you maybe the day after tomorrow.