I cultivated in my garden. [10th May]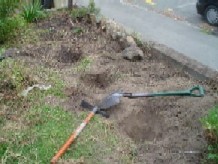 Hello everyone. How's it going? Today, 7 people looked this page. Thank you very much though some of them were probably the same parson. Anyway thanks.
Today, I was like a gardener again. Several days ago, a neighbour told us that She'd like to give some her plants to someone. Then, my boss was intersted in it. In fact, our garden is deserted. My boss's friends quite often tell her so.
Ah, now, I'd like to tell you about me. I've lived in Timaru since this February. I've got an exchange job here. I'm living with a married couple. They are thirties Japanese. About a years ago, they got the house in Timaru but it was quite old one. They renovate the house while live there. I'm actually their assistant. That's why my work is like a carpenter, a house worker, a cleaner, a gardener, and sometimes a chef. It's an exchange job so I've got my room in the house and I can have a meal with them.
Today I dug many holes to plant trees and flowers. Then, the graund was too hard so it was quite hard work. I used not only a scoop but also a hoe. Maybe I looked a coutry farmer. Although it was cold in Timaru today, I felt quite warm, you know.
By the way, I'm going to Christchurch on Wednesday to have a job interview. For that purpose, I booked the bus today. I heard Momoko, who's my friend lives in Christchursh, is leaving New Zealand in the afternoon on Wednesday. I chose the early morning bus to see her finally. It takes about 3 and a half hours so I'm going to sleep in the bus. However, if it's not comfortable, it'll be stuffy hours.
Well, Sindia, thank you for coming here. If you like, please tell our friends about here. Actually, I've told about here only a few people for the present. I wish here will be a good place for our friends and of course others.
See you tomorrow maybe.