The interview in Shibuya.[29th March]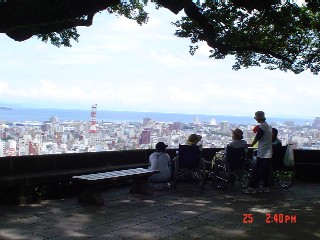 This evening, I went to Shibuya to take a job interview. It was a different one from yesterday's one. Several days ago, I sent my PV to the company and actually I'd already placed the member then. Today, they told me the system. When they need a worker, they send e-mails or ring up to the members. Then, if I have a time to go there, I work.
It is a bit near volunteer. I mean that I can't get a good pay so much for the work. But it's very interesting work for me. It's named "Junior Travel Helper". When old people go travelling, I help them to carry luggage and talk to them so that they don't feel lonely.
That job is interesting but I can do that once a month or a couple of month, maybe. And I can't get a good pay. That's why I have to get another job and I'll work as Junior Travel Helper on my off day.
That's all. Then, good night.
By the way, I took the photo in Kagoshima in the summer of 2003.