Media Arts Festival.[15th March]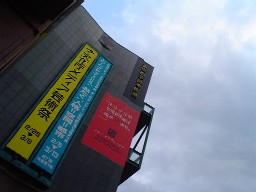 On 2nd March, I went to
Japan Media Arts Festival
at
Tokyo Metropolitan Museum of Photography
. There were 2004 Award-winning Works of Media Arts at the festival. But I hadn't known almost of all those works because last year, I spent most of time in New Zealand. That's why there was quite fresh world for me at the hall.
Two years ago, I went to
the Festival
for the first time. Then, I was a student. That time, I went there to see some games. Especially to see Tetsuya Mizuguchi's works. He was a man who advised me to see the world. In other words, he made me to go to New Zealand.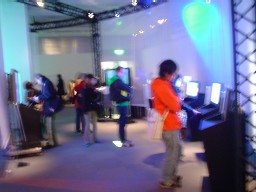 Well, that time, his works
Rez
was awarded. I liked that game. That time, I played Rez sitting on the special seat in the hall. Then, I had quite curious feeling. Then, how can I say, there was quite strange place.
But this year, I couldn't feel such atmosphere at the game booth unfortunately. Although there were some interesting games there, I felt that it was the same as a toy counter.
This time, what most fascinated me was a comic book. Just today, I got it at a book shop. The name is "
Yunagi no Machi Sakura no Kuni
" (The town of evening calm, the country of cherry blossom). The scene is Hiroshima after atomic bomb. Although I had ever read some books about Hiroshima and War, this book made me have special feeling which I had never had. The books before I'd read usually said like,
"Many people killed by W.W.II and A-bomb."
"And so, No more war! And don't make nuclear weapon! Love and peace! That's all."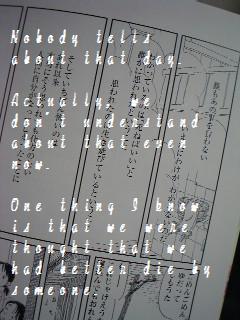 But this book, "Yunagi no Machi Sakura no Kuni", shows real life of people. One day, Hiroshima people were surely thought that they had better die by someone. In this book, there are no these words, "Japan", "US", "War" and "Peace". The writer shows the story of Hiroshima people at the time from that day to present. I think she wants to say that it is coutinuing even now.
I will read this book many times.
Track back to...[
スタッフ一同より感謝を込めまして
]