Fancy meeting.[2nd October]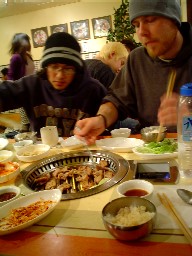 I had a fantastic day. It was sunny but it was already 6pm when I went out. I wore quite formal clothes to see a concert at the town hall. However, there was nothing there tonight. Actually, the concert happens tomorrow. I made mistake. Then, I got a ticket, and I'm going there tomorrow night anyway.
After that, when I was walking on the street in the city, I heard that somebody shouted my name. Then, I found it was Carl shouting from a car on the road. Carl was my contractor when I worked at a vineyard in Blenheim. It was a really chance meeting. He was with Dennis who I lived and worked with in Blenheim.
Then, we had dinner together at a Korean restaurant. There was a Nepali man with them. He began to work in Blenheim after I left there. By the way, it was the first time for me to talk to a Nepali. I've stayed in New Zealand for nearly a year. I met lots of kind of people here. It is a very interesting time for me. In the Korean restaurant, our table looked a little bit strange from other tables. There were Korean, German, Nepali, and Japanese at our table, and besides only I wore formal suit. A year ago, I could never guess that I would be having dinner with such international people a year later.
After dinner, I waved good bye and caught the bus back home. On the bus, I had a chance meeting again. There was Michiko sitting there. The last time I'd met her was..., I can't remember. Maybe in February. Nevertheless, we'd known how we'd spent the time through e-mails.
By the way, her flat is quite close to my flat. We got off the bus and went to her flat. Her flat is quite big. There are 6 people living there. It seemed like small YHA. Then, we talked about our strange experiences. She told me about travelling in Australia. She faced lots of troubles at that time for example, losing a wallet. But she said that it had been very good time for her to gain courage and improve English skills.
Well, when I was leaving her flat, it was already 11 pm. And so she was worried about me. You know, a Japanese boy was killed in Christchurch last week. That was why many my friends have been worried about me lately. In fact, I often walk in the night.
"If you die tonight," said Michiko. "I must have a regretful life forever." I'd heard similar words many times over the last year. Then, I said,
"Such life might be interesting as well."
Anyway, I got home without incident, and am able to tell you this. So, good night.