Lunch party.[1st October]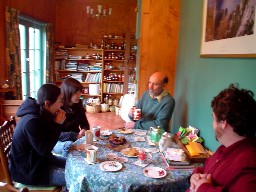 Cullen, who is my flat mate had special lunch for Ai, Shoko, and me at our flat. Ai and Shoko are the assistants of his business. Actually, I am partners in as well. Next week, Ai is going back to Japan. That was why Cullen prepared for special lunch today.
He is good at cooking. He cooked Fish pie and Boysen berry cheese cake. It was very good. After lunch, we watched slide show. Last week, we went to Elderslie which is near Oamaru and there is Cullen's garden there. The photos of the slide show was taken at the time. We took strange photos for the website for his garden. Actually, I've been making the website for him. Well, we took photos to look like summer and autumn though it was spring there. We were crazy but also smart, perhaps. Today, when we checked the photos, it looked summer and autumn, we felt.
Anyway, we enjoyed it. And it doesn't matter if the photos look summer or not. It's just Cullen's business, I talked to Ai and Shoko like that. We are bad assistants, aren't we?
Although I haven't uploaded those strange photos on the website yet, you can look at it. It is almost finished. But I'm afraid that one I made is a Japanese site.
Victorian Garden School