Fendalton library.[29th September]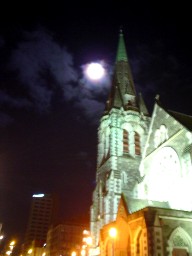 This picture is not Fendalton library. It's Cathedral, you know.
This morning, I overslept and late to go to school. When I arrived at class room, Anet, who is German girl, said,
"Oh, you had wonderful time last night?"
Actually, I got home 12:30am last night. I stayed at the backpackers, where Tomoko stayed, for a bit long.
In the afternoon, I went to Fendalton library. It took about 15 minutes on foot from my flat. There is quiet and nice place. There is good place for reading and also sleeping. I slept there for about an hour and afterwards read a book for two hours. I like library especially in Christchurch. Many libraries of Chch are built on beautiful place, I think. I wonder if I visit all of libraries in Chch before I go back to Japan. Maybe I will.