Dinner with Tomoko.[28th September]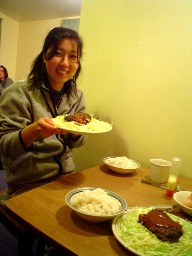 This evening, I met Tomoko in the city and went shopping to get some food for dinner. We had dinner together at the backpackers where she stays.
We went to Pak'n Save which a popular supermarket in New Zealand. Then, Tomoko said,
"I wanna see around all lanes here because it should be the last time I come to Pak'n Save."
I laughed and joined the tour of Pak'n Save. It was interesting. She keenly saw around food on show. Then, I wondered if she would miss Pak'n Save.
At the backpackers, we cooked Hamburg steaks which my best specialty dish. It was good but a little bit big. Actually, everything was too much. Rice and cabbage as well. Nevertheless, we had all of them. Tomoko said,
"I've had all. I could. I am afraid of my appetite. It is absolutely amazing for my former self. But it has been normal for me now, unfortunately."
"No worries," I said. "You would be emaciated by your work soon in Japan."
"I hope so." She replied.
At the backpackers, there was a Japanese girl who'd just arrived in New Zealand yesterday. It was an interesting meeting. We are leaving soon but she has just started the life in New Zealand. Then, she was making plan what to do from now.
"Now I just understand how Momoko felt last year," Tomoko said.
When Tomoko and I met Momoko for the first time, Momoko had already stayed in New Zealand for 11 months. Then, Momoko told Tomoko that Momoko envy Tomoko. Now I also understand what Momoko meant.
Today, I talked to Tomoko lots of things for a long. Maybe it was the longest time we'd ever had. I was really glad to be able to meet her Chch this time. Actually, she would go back to Japan in July or August before.
Anyway, I had wonderful dinner time today. Thank you.