Friendly German trio had me for dinner.[22nd August]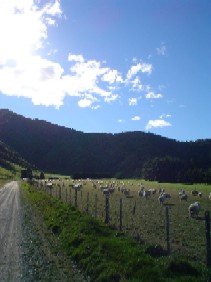 Hello, everyone. How's it going? I'm fine, thanks. It was quite changeable weather today.
This morning, I woke up early, and went walking with King to the mountain. It was very nice. As usual, the blue sky made the sea blue, and the dazzling sunshine made everything beautiful. Ah, there is just 10 days left my stay in Hopewell. Afterwards, I would not see the beautiful scenery of Hopewell.
In the evening, I went running, had a shower, and had a spa. And afterwards, I went to lounge to cook for dinner. Then, there were three German customers and Akiko were having dinner there. They said,
"Can you join us?"
Of course, I joined them. They were having Thai curry. It was very good. There were much of rice left on the dish. Daniel, who is one of German customer, asked me,
"Can you have more?"
"If you are happy, I can eat all", I said.
"Yes, he has got a big stomach", Akiko said then.
In fact, I had all of remains.
I said, "Danke (Thank you)".
Although it was rainy in the afternoon, there were lots of stars and the moon in the night sky. Then, see you, good night.